THE ART OF BALANCING
with Trisha Hemingway, UK & Wolfgang Weiser, S
Summer Course for AT-teachers and experienced performers 27/7- 30/7 Anga, Gotland – Sweden
Sensorial Experience – Balance Work – Circus Skills – Balance Art
This practical workshop will provide you with a number of unusual activities. Participants will gain new ideas and experience about their balance, habits, co-ordination and movement. The basic idea is to use for the participants unfamiliar activities, to give them the chance to work with the Alexander Technique as psycho-physical education. Regarding the abilities of participants, we will explore balancing on the floor, on the balance board or on the tightrope. We might also work with juggling and other physical-thinking activities. The schedule consists of movement and balance in momentum by organization of body-mechanics; Balancing whilst moving with objects, Balancing off the ground by rope walking or balance board and individualized work & work in small groups about how to teach performers. We will simply investigate in the art of balance, relate as Walter Carrington wrote to 'Balance as a function of intelligence' and study the aspect of dynamic re-organisation.
The Teachers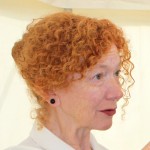 TRISHA HEMINGWAY, UK, senior teacher, Trish trained with Walter Carrington during the 1970s and now runs a busy practice in Exeter, UK and is a STAT Moderator to training courses in UK and Ireland. She specializes in workshop for actors, musicians and performers. She has taught the Alexander Technique in Sweden's Helsingborg State Theatre, The Gothenburg and Norrlands Opera House, as well as teaching the work in many schools around the UK over the last 30 years including Wells Cathedral, Bryanston and Sherburne Schools in Southern England.
Trish's workshops are not only very informative they are also great fun.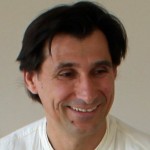 WOLFGANG WEISER, S trained in England and Germany between 1993-97. He is an international recognized AT teacher and is working at training courses  as well as giving workshops for teacher development all over Europe. He has taught the AT at the Theatre University of Stockholm and worked with dancers and musicians all over Sweden. Prior experience includes working as a actor, performer,, dancer and juggler since 1984. He also holds a BA in Theatre & Cirkus and MA in education, researching about movement formation in educational science as well running a residence project on the Island of Gotland,
Wolfgang's workshops are not only inspiring they also give you more balance.
The venue

Willkommen & Welcome to Vibrationswerk or Vibrationplant, a new centre for education, art and research, situated in Anga on the east coast of Gotland.
Gotland, in the middle of the Baltic Sea is a beautiful holiday island with a unique nature and a midlevel festival in Visby, well worth a visit in itself.
The workshop will take place in a beautiful white tent and there will be possibilities for walks, swimming and rehearsing. Teaching language is English-with German, Swedish and Danish translation
Details
No more booking possible – Registration is closed.
The number of participants is limited to 15. Costs: € 380 for tuition & lunch. Earlybird:  €350 ( until may 30th)

Private lessons the day before/after € 60.
Accommodation in double room on the seaside € 50/night, inclusive breakfast at Borgvik pensionat at the sea. 
Please note: The places to stay at seaside are  pre-booked  (double rooms) only until easter http://www.borgvik.com.  Please contact us for further information about the workshop or more travel info at: at@weiser.se
For coming to Gotland please visit: